Installation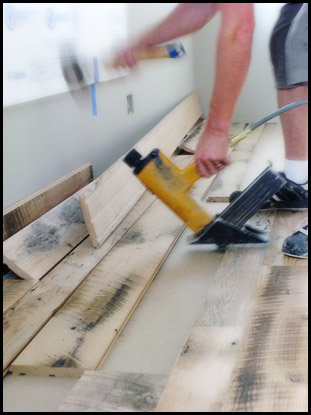 Once you have selected the type of wood floor to install it's time for the installation process. Select Wood Floors has perfected this process for maximum speed and perfect results. We want you to experience a smooth transition from one floor to the next, with as little downtime as possible. There are several methods for installing floors that depends on the floor type.
Nail down installation
Typically used when installing solid wood floors. Two inch or shorter nailing cleats are generally used with a wood flooring nailer and mallet to attach the flooring to the sub-floor.
Staple down installation
Staples are used instead of nailing cleats to secure the hardwood flooring to the wood sub-floor. A pneumatic staple gun is used to drive the staples into the tongue of the wood plank and into the wood sub-floor underneath. The staple-down installation procedure is easier to do than the nail down for do-it-yourself installations. Beware, not all hardwood flooring manufacturers approve of staple down installation. Be sure to check with the manufacturer's installation manual to make sure you are using the right staple gun and right size staples as well.
Glue down installation
As part of a glue down installation, the boards are glued directly onto the sub-floor, whether the sub-floor is concrete or wood. The recommended mastic or adhesive is spread onto the sub-floor using the proper-sized notched trowel and than the planks are set into the adhesive. Glue-down installation of engineered wood floors can be done over wood sub-floors and dry, fully cured concrete slabs. Be sure to sure to use manufacturer's recommended adhesive with the proper notched trowel when gluing down a wood floor. Not using the manufacturer's recommended adhesive and trowel size will void any warranties.
Floating
Recently hardwood flooring manufacturers have introduced wood floors with a special glueless locking system, also called "clic" floors. These floors can be installed over a variety of sub-floors such as wood, concrete slabs and even some types of existing floors. Floating floors can also be installed using wood glue applied to the tongue and groove of each plank to hold the planks together. In either case, padding is placed under the floor which acts to protect against moisture and noise. Some engineered floors and long-strip floors can be floated. This is a very fast, easy, and clean method of installation. Please consult manufacturer's instructions to see if your floor can be floated.
We have an experienced staff available by appointment to give a free home estimate and discuss your specific flooring needs. Please call us at (208) 659-5246 or send an email to selectwoodfloorsid@gmail.com.